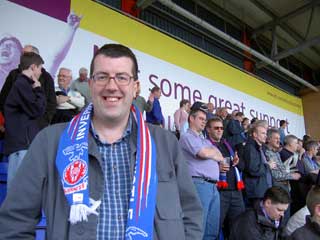 Groundhopping
Caley Fifer met up with Mike Latham last Saturday at the Caley Jags v Falkirk game. Here is the first news story on the new caleyjags.com web site.
Mike Latham is a 43-year-old Bolton Wanderers supporter, which is ok... well it's not Ross County. He goes to most of the Bolton games, home and away, but spends the rest of his time groundhopping.
Mike completed the current English 92 earlier this season and over the last two seasons he's been ticking off the Scottish grounds. He was left with his last two to complete. Against his better judgment, but through the necessity of the task he went to Elgin City last week. But, to end on a high he went to Caley stadium on Saturday. A total round trip of 1,600 miles.
One benefit of the trip for Mike was that he was able to go to the two Junior Cup SF games at St Johnstone and Raith Rovers on the way up on the Fridays. He reported that they were two terrific games. However, he wanted to finish his challenge at a scenic location, a friendly club and to see a decent match..... so he was pleased to achieve all three. "Also", Mike said "Inverness is the birthplace of my all-time sporting hero (and that of many other Boltonians)- John McGinlay."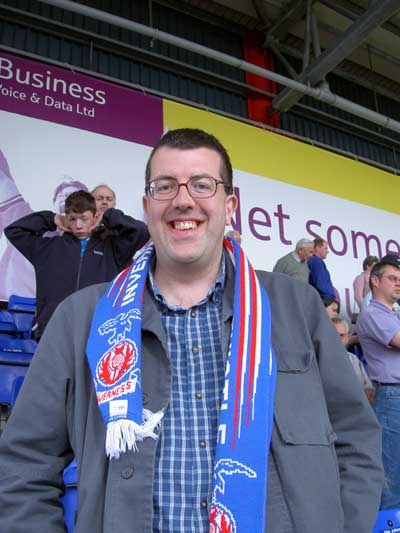 "Outside the SPL the friendliness and pleasant atmosphere at Scottish grounds has been superb. My favorite grounds are Brechin City, Morton and Arbroath and the friendliest I found was Montrose. It's been a long trek and I've done most of the trips in one day but it has been a great experience. I'm a self employed accountant and also present an hour-long rugby league programme on BBC Radio Lancashire, League 2004 and I write a regular article, Groundhoppers Guide, in Rugby League World, a monthly magazine, so I'm a bit of a grounds nut. My next ambition is to go to Fort William to complete the Highland League grounds and after that, who knows?"
It's a pity Mike didn't see Caley Jags beat Falkirk on Saturday, but he did say it was a decent match, and that he met his objectives for the trip. He did manage to get the one sunny day in the week. As for the future, how about visiting Caley Jags supporters around the world? Much more fun than Elgin and Dingwall! I'm sure you'll be welcome in Canada, Australia, New Zealand, China, Chile....etc.
All at caleyjags.com wish Mike all the best with his next challenge. [Sunday 2nd May 2004]