Caley Jags denied entry into the SPL
Disclaimer: This is a Caley Jags orientated site, an alternative perspective on events can found on the official Partick Thistle Web Site [here]
Tuesday 1st June 2004
On Tuesday 1st June a general meeting of the Scottish Premier League (SPL) was held in the offices at Hampden Stadium in Glasgow. On the agenda was a vote on whether ICT FC, as winners of the Scottish First Division for season 2003-4, had met the other required criterial for entry into the SPL. It was a requirement that two thirds of the members needed to vote in favour of ICT FC for them to be admitted. There are twelve members, so eight members had to support the application.
Membership of the SPL is complicated by their rule (at the time of writing) that member clubs are required to play at a stadium with at least 10 000 covered seats, and winter weather protection for the playing surface. The seating requirement had proved an insurmountable hurdle at the end of the previous season. This resulted in Falkirk FC, Scottish First Division champions for 2002-3, being deny entry into the SPL.
Last year Falkirk had proposed a groundshare with Airdrie FC until their new stadium had been built. This was not acceptable because the SPL had no control over the scheduling of matches at Airdrie FC. ICT FC had by now submitted a proposal to ground share with Aberdeen FC. As an SPL club there would be no issues arising out of scheduling priorities.
If ICT FC got accepted into the SPL then Partick Thistle FC who finished at the bottom of their league would be relegated into the First Division. PT FC believe that ICT FC have not met the conditions for membership and sought legal advice prior to the meeting. They made it known they would thake the SPL clubs to court on unfair competition grounds should ICT FC be successful with their application.
ICT FC were not sucessful in their application. The reasons for this was not immediately clear and resulted in a considerable number of article in the press during the following days as different groups reacted and the story unfolded.
Wednesday 2nd June 2004
The newspapers on Wednesday each dedicated a number of pages to the story. The southern papers revealed that people in the central belt were as shocked by the decision as those in the north.
Daily Record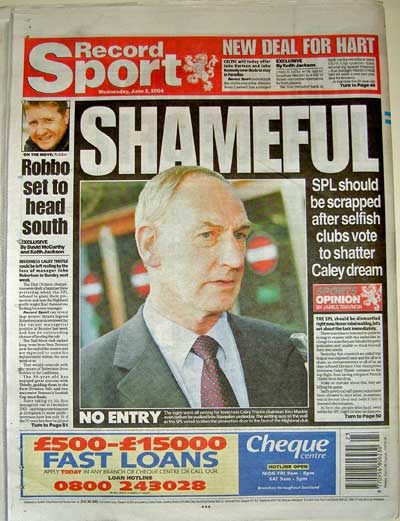 "SHAMEFUL- SPL should be scrapped after selfish clubs vote to shatter Caley dream"
"The SPL should be dismantled right now. Never mind waiting, let's set about the task immediately" Jim Traynor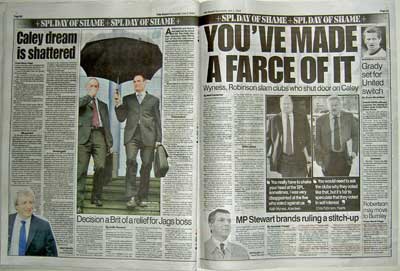 "You've made a farce of it"
"Wyness, Robinson slam clubs who shut door on Caley"
"The truth is the SPL is in disarray with people casting votes for the wrong reasons and often just to get back at a rival or to even an old score."
"Thistle co-bosss Gerry Britton may be studing to become a lawer but he admits the SPL rules leave him bamboozled."
".. a central belt stitch up" David Stewart MP
"Jim McLean insists the SPL's ruling body are making a mockery of football in Scotland."
"We have here a rule which is not the league's rule, it is the one (of) Scottish football" Lex Gold
"I couldn't wait to get out of our joke set-up (SPL)" Lee Miller
Daily Star
"What has happened to us is nothing short of criminal and makes Scottish football game a laughing stock." J Robertson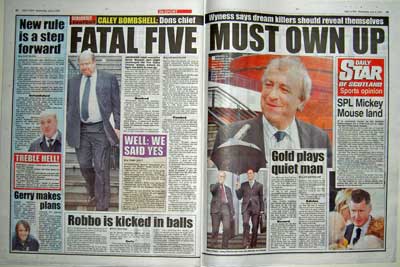 "Motherwell voted for the Caley Thistle proposal and we are disappointed by the result" Stewart Robertson, Motherwell Director
"... there are issues of interpretation of rules which have to be followed and obeyed" Lex Gold
"... continue to live in Mickey Mouse land."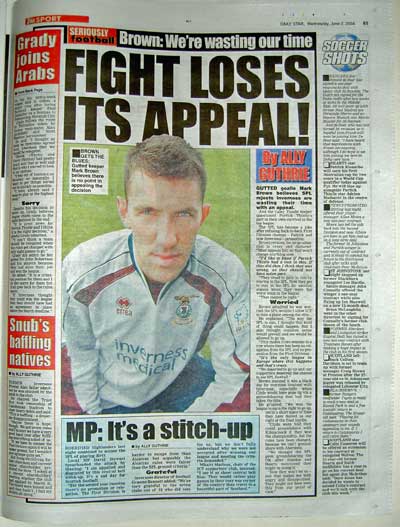 "The way the SPL is run, I thought this kind of thing could happen. But I also thought common sense would prevail and we would be allowed to go up." Mark Brown
The Press and Journal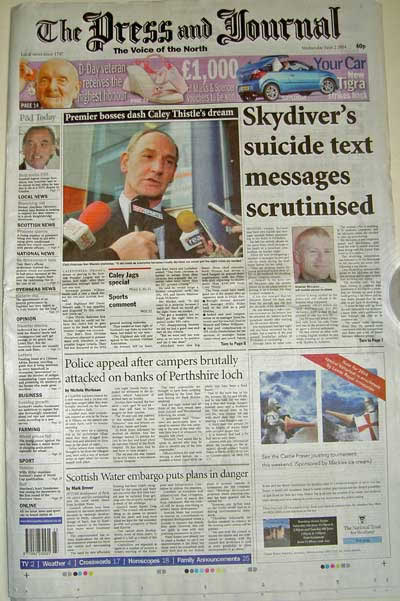 "Premier bosses dash Caley Thistle's dream"
"It was a black day for the city and Scottish football." Provost William Smith
"... could not believe the club's bid to gain entry to the Bank of Scotland Pemier League was rejected" Ken Mackie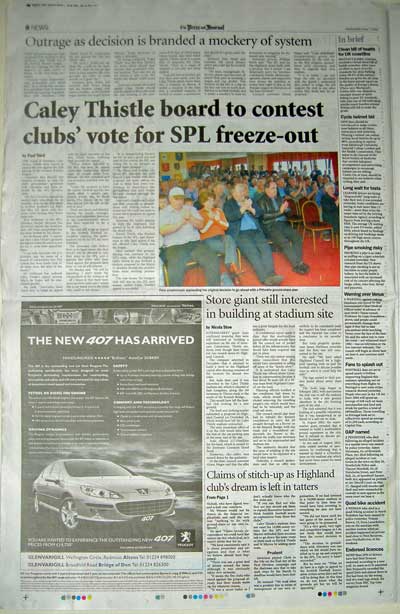 "Outrage as decision is branded a mockery of system"
"What we do have is a right of appeal to the Scottish Football Association within seven days and we will be doing that." Ken Mackie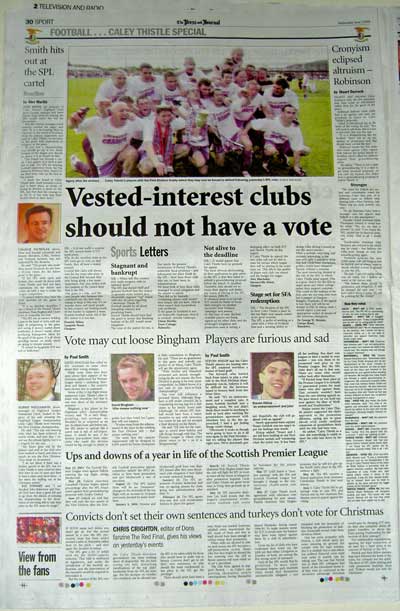 "It is a devastaing blow to everyone in the north of Scotland.." Alex Smith
"It would be laughable if it was not so ludicrous." Charlie Nicholas
"... the SPL seems to operate like a cartel and is full of self-importance." David Bingham
" You don't win leagues to have a medal in your pocket - you win them to be promoted and play in the Premier League. But the SPL clubs don't all see it that way." Steven Hislop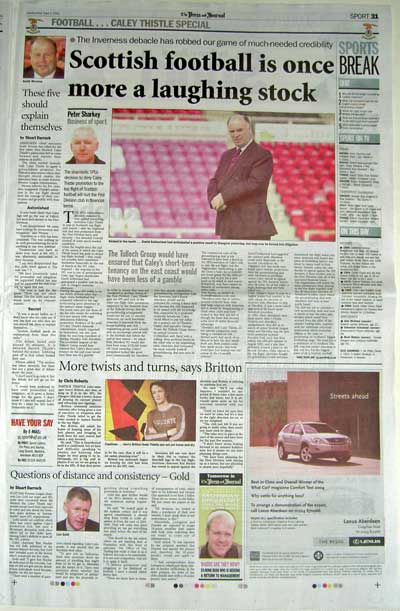 "(before the meeting) Aberdeen had concluded the most valuable groundsharing deal ever seen in Britain."
"Scottish football needs an explanation from these five clubs."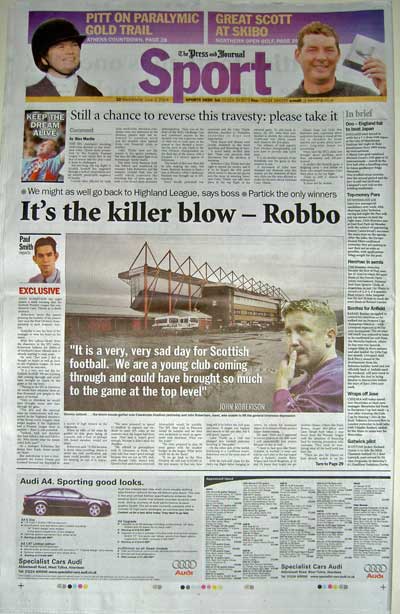 The Sun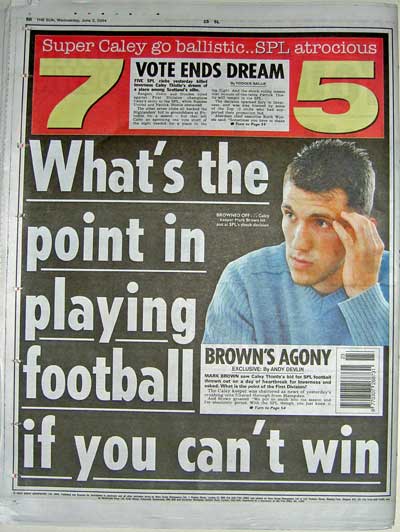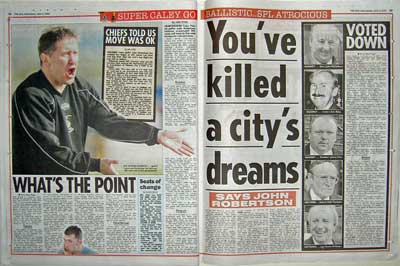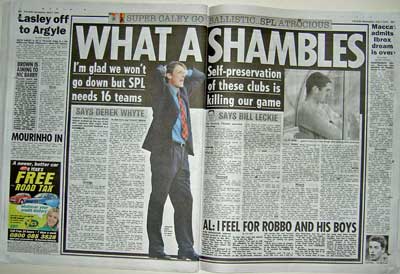 The Scotsman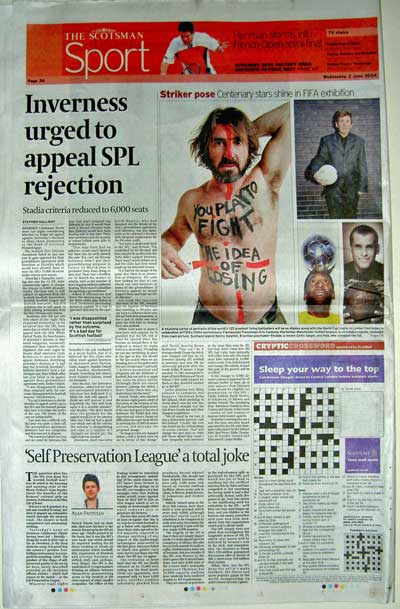 Thursday 3rd June 2004
The Daily Record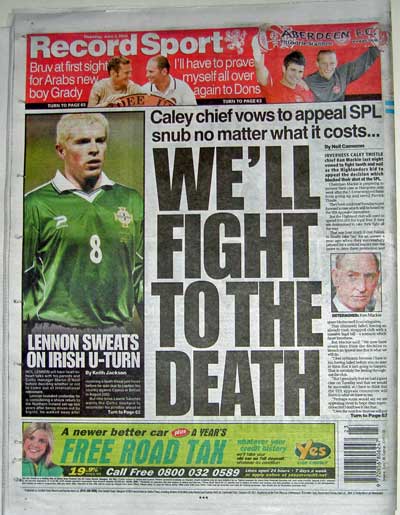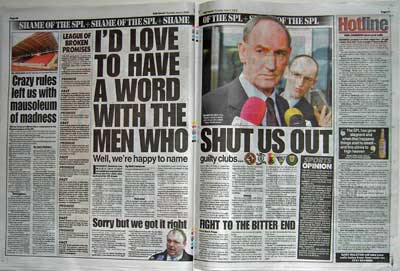 The Sun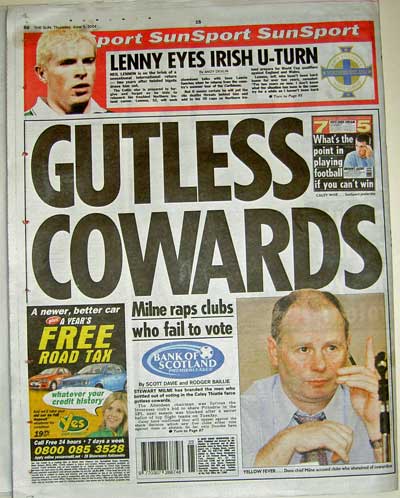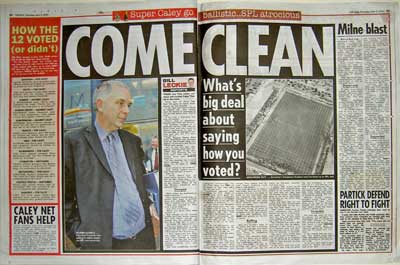 Friday 4th June 2004
The Daily Record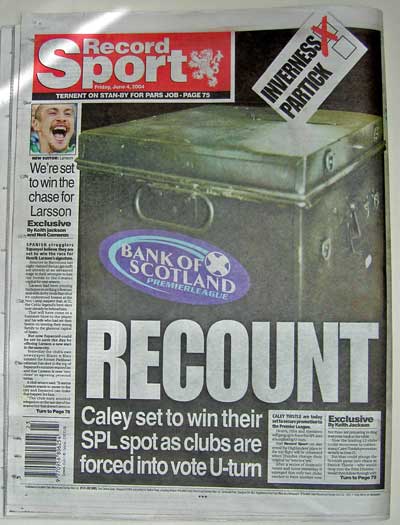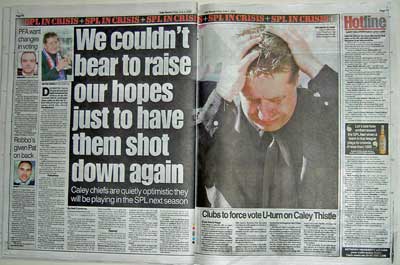 The Press and Journal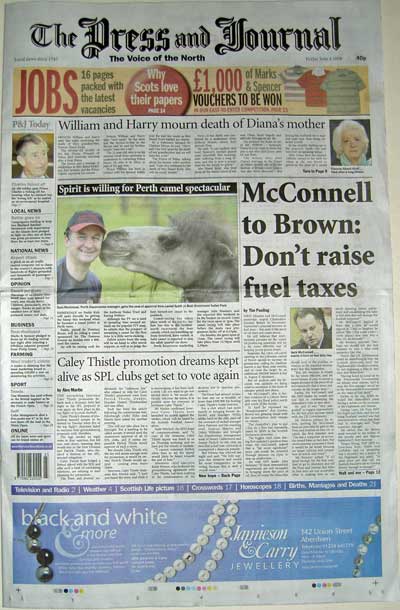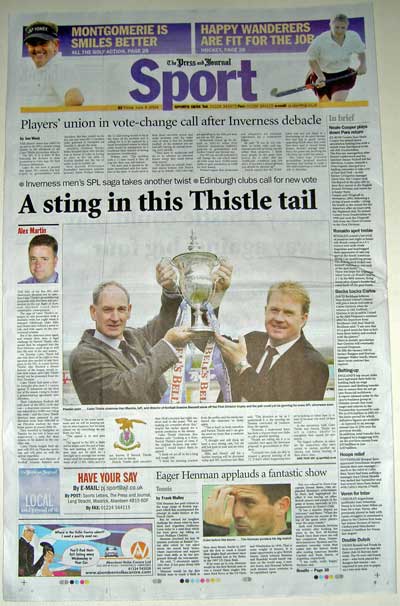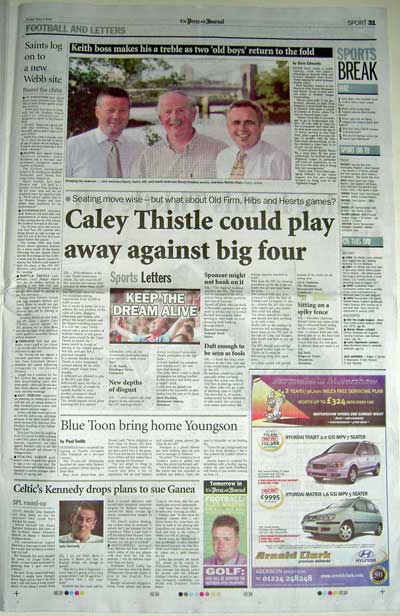 The Sun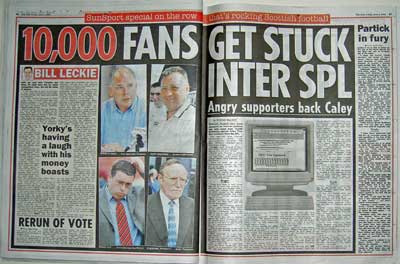 Saturdayday 5th June 2004
The Daily Record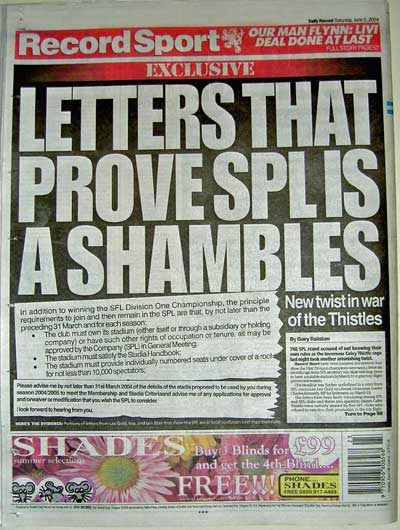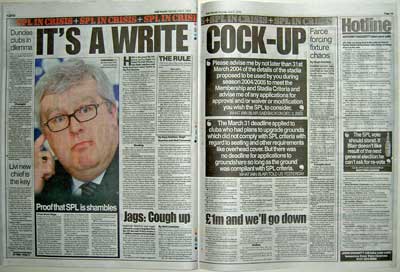 The Sun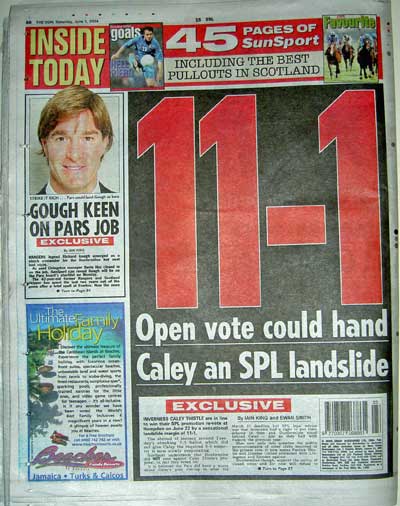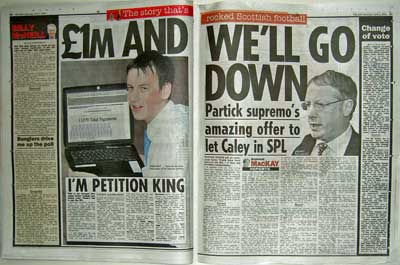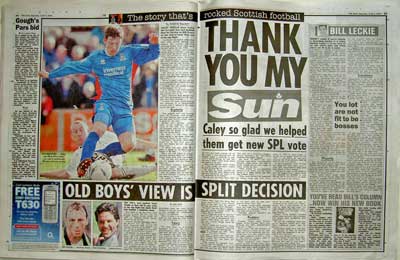 Sunday 6th June 2004
Scotland on Sunday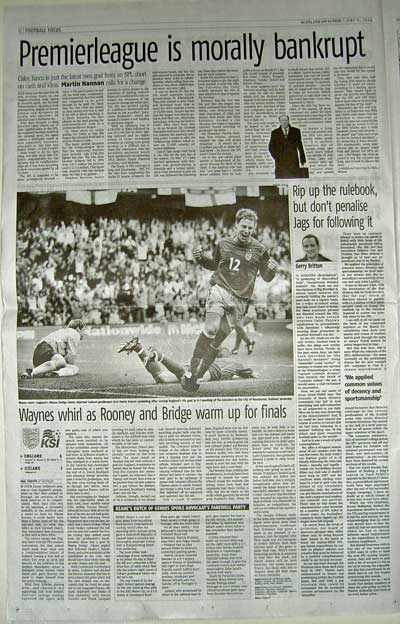 The Sunday Post